Winner: Best Reggae Club x 5! Thank you Bay Area!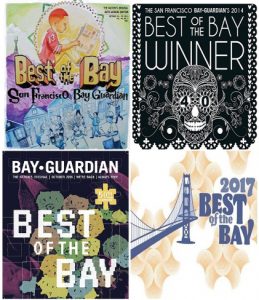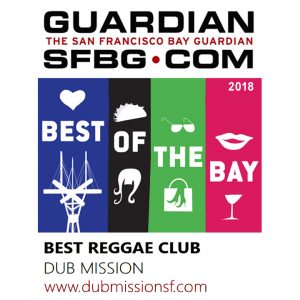 Dub Mission Documentary
History
Dub Mission is one of the longest-running reggae parties in the world. Showcasing dub, roots reggae, and dancehall in the San Francisco Bay Area regularly from 1996 to 2019, the party has been voted Bay Area's Best Reggae Club five times: in 2013, 2014, 2016, 2017, and 2018.
From the very beginning, Dub Mission was intent on giving classic and modern dub its due, making it a rare sort of reggae party. Luckily this period of time has also coincided with a great resurgence of interest in dub music through onstage performances and re-issues. We have devoted special nights to the music of various reggae greats including Bob Marley, Lee Perry, King Tubby, The Scientist and Prince Far I. Throughout we've also showcased classic roots, killer dancehall, and deep hybrid cuts.
Artists from all over the world and the U.S. have performed at Dub Mission. A partial list includes: The Scientist, Adrian Sherwood (ON-U Sound System), Mad Professor (Ariwa Sound System), Mungo's Hi Fi with Soom T & Solo Banton, Prince Fatty Sound System with Hollie Cook, Tippa Irie (Saxon Sound System), Zion Train, Overproof Sound System, DJ Vadim, Poland's Radikal Guru and Dreadsquad, Twilight Circus Dub Sound System (Holland), Florian Seyberth (Boozoo Bajou/Germany), Dubblestandart (Austria), Pitch Black (New Zealand), Ex-Centric Sound System (Israel), Addis Pablo (Jamaica), Nickodemus (Turntables on the Hudson), Subatomic Sound System, dr Israel, Jahdan Blakkamoore, Tino Corp (Jack Dangers &, Ben Stokes), Dubtribe Sound System and many others.
See below for highlights of Dub Mission's 20+-year history and links to photo and flyer albums.
DJ Sep
Sep is the founder, promoter, and main resident at Dub Mission. For 22 years, Sep was also on Bay Area radio: first on the highly-influential college station, KUSF and later at Berkeley's public radio station, KPFA. Sep is the co-compiler of Babylon Is Ours: The USA in Dub, a collection of all-exclusive American dub tracks (on Select Cuts) and co-producer (with Jason Short) of "Get Your Dub Wet" remixes (Daly City Records). Sep has won a Goldie Award (Bay Guardian) and been nominated for Best DJ (SF Weekly Music Awards). She has spun in London, Vancouver, Tijuana, New York, Washington DC, Miami, Portland, Seattle, and Los Angeles and has opened for the likes of Sly & Robbie, Lee "Scratch" Perry, Mad Professor, The Wailers, Culture, Big Youth, Les Nubians, Rachid Taha, Kinky, and many others.
VINNIE ESPARZA
Vinnie is a veteran of the San Francisco/Bay DJ scene and spins at various parties around the city. In 2000 Vinnie was voted "Best Local DJ" by the Bay Guardian's "Best of the Bay." The following year he won the City Search Editor's Award for "Best Local DJ." Vinnie was also nominated for "Best Local DJ" in the SF Weekly in both 2001 and 2003. He was the first DJ to play the Monterey Jazz Festival on its 50th Anniversary and was asked to return the following year. He was also the first-ever DJ booking for the Quebec City Jazz Festival. Vinnie has compiled the Loose & Juicy collection for Vanguard Records, Viva CuBop 2 for Ubiquity Records, and coordinated the reissue of Bobby Montez's Jungle Fantastique for the same label. He spins a wide variety of music including roots reggae, jazz, hip hop, and soul to name only a few.
MANEESH THE tWISTER
Maneesh is a DJ, radio host and founder of Surya Dub and co-founder of the Asian underground Dhamaal artist collective. Maneesh was also a resident of one of the longest running weekly dub & roots night in the World, Dub Mission, which ran for 22+ years and was awarded the Best Club DJ of San Francisco by the SF Bay Guardian. He has brought dubwize & global bass communities from around the world together having toured around the US, India, UK, Hong Kong, Bangkok, & Bali. Maneesh has shared the stage with legendary Jamaican producers Lee Scratch Perry & Scientist, Adrian Sherwood, Mala, The Bug & Warrior Queen, Flying Lotus, Mad Professor, Thievery Corporation, Francois K, Kode 9, State of Bengal, Om Unit, Kahn & Neek/Gorgon Sound, Smith & Mighty/RSD, Nickodemus, DJ Vadim, Marcus Visionary, Liondub, Alpha Steppa, Z-Trip, Antiserum, Roommate/Babylon System, Blutech, Kush Arora, Poirier, Dan the Automator, Lyrics Born, Radikal Guru, & Rob Paine..
Highlights
1996: Dub Mission makes its debut as a monthly party at Elbo Room. Within a few months, it becomes a weekly, starting its long-term Sunday night residency.
January 1999: DM produces legendary dubmaster The Scientist along with the all-star Devil Dub Band (Buckethead, Brain, DJ Disk) at the Justice League (now The Independent).
April 1999: DM co-presents the first Bay Area appearance by the Blood & Fire Sound System featuring Trinity, Dillinger, Ranking Joe and a rare appearance by selector Steve Barrow also at the Justice League.
2001: DM celebrates its fifth anniversary with producer/ mixmaster Adrian Sherwood, whose On-U Sound System has been a great influence on Dub Mission.
2002: DM turns six with an unprecedented sound system show featuring The Scientist at the controls.
2003: DM's seventh anniversary features the first-and-only U.S. appearance by Birmingham's Overproof Sound System featuring Ras Tweed on the mic.
2004: DM celebrates its eighth anniversary with the return of Adrian Sherwood featuring Ghetto Priest on the mic. Dub Mission is also nominated for "Best Party" by the Club World Awards that year.
2005: DM hosts an international dub summit with rare West Coast performances by Yossi Fine of Israel's Ex-Centric Sound System, and Cosmic Rocker and The Spy From Cairo of Organic Grooves, out of NYC.
2007: DM turns 11 with the debut of NYC's Subatomic Sound System featuring Jahdan Blakkamoore and Treasure Don on the mic.
2011: DM celebrates 15 years with the return of Adrian Sherwood and Brother Culture, who perform together for the first time in the U.S. The show is also a chance to celebrate On-U Sound's 30th Anniversary.
2012: DM turns 16 with its first Sound System show featuring DJ Sep with Mista Chatman on the mic.
2013: DM celebrates #17 with a night featuring all the resident DJs and celebrating the release of the Biggering Riddim featuring DJ Sep with vocals by dr Israel and Mista Chatman.
September 2014: DM turns 18 with a night featuring all the resident DJs, plus Dubtronic Science performing live.
October 2014: DM competes in the first Red Bull Music Academy Culture Clash held in San Francisco, the only reggae crew to do so.
September 2015: DM turns 19 with headliner Addis Pablo (son of the legendary Augustus Pablo) and Jah Bami, plus all the residents.
October 2015: DM celebrates show # 1000 at Elbo Room.
December 2015: DM completes its last Sunday-night party and moves to second Fridays at Elbo Room in 2016.
September 2016: DM celebrates its 20th anniversary with a show featuring veteran mc Screechy Dan with Subatomic Sound System, plus all the residents.
September 2017: DM ends its residency at Elbo Room with its 21st anniversary, featuring special guests dr Israel, Will Magid, plus all the residents.
November 2018: DM presents its final show at Elbo Room SF before the club closes at the end of the year. Special guests include mc Chronic G, and Jef Stott on guitar, plus all the residents.